As my Mom said "you get to where that everyday for the rest of your life!"
Tuesday September 7, 2010
We spent the day driving the Road to Hana in Maui. I must say it was a perfect day, not exaggerating, everything was perfect about it. For some reason on that road I found so much peace (but that's another post). We drove from there to our hotel and checked in, we got a beautiful room, newly remodeled and very big, a major upgrade from our room in Oahu. I was tired after getting up early for our flight to Maui and spending the whole day in the car and the sun.
We planned on having dinner at the hotel restaurant where we ate one time last year. We lounged around for a bit and then were getting ready for dinner. I was going to wear sweats but Rodger insisted I change into a dress. I thought that was strange, but I also know some people don't love my "I can wear sweats everywhere" attitude. Dinner was nice, but I must have said eighty times how tired I was. So, in other words, just a normal evening. After, we went out to the beach by the hotel and sat on the chairs, there were two people singing and playing guitar. We stared at the stars for awhile and then walked back to our hotel room.
After awhile we were both sitting on the couch in the living room portion of our room talking and cuddling and for some reason we both seemed nervous about what we were saying to each other. I started thinking we haven't acted like this since we first started dating. We were talking about our trip so far and I said that it had been perfect. He said that it wasn't perfect for him yet and I said "why?". He told me to guess three things that would make it more perfect for him so I said "more food?", "no", "more snorkeling?", "no", "more swimming?", "no". Then all of a sudden he got off the couch and reached into his pocket and said "it would be more perfect if you said yes to this question, will you marry me?" And then he opened the box, and I was so happy. It was very, very sweet and I could tell how nervous he was which was also sweet. Then we kissed and hugged and cuddled some more.
I asked if our families knew, he said that his did, and that Vickie helped him pick out the ring, and he asked my dad's permission. And my dad said "fantastic". He said he didn't know if my mom knew. So we called her even though it was midnight at home. She was so happy for us.
That night we met up with Rodger's friends who were visiting Maui also for a drink.
It was such a happy night and I don't think it has really sunk in yet that we are engaged. The more I wear my ring the more it does. I didn't wear it much in Maui because I was so afraid of losing it, still am because it's a tiny bit big. I am going to have to get it sized down but I am so sad to leave it at the ring place so I am waiting a couple more weeks.
I love Rodger with all my heart and look forward to being his wife.
And we're two birds of a feather, Then the rest is just whenever
And if I'm addicted to loving you, And you're addicted to my love too,We can be them, two birds of a feather, That flock together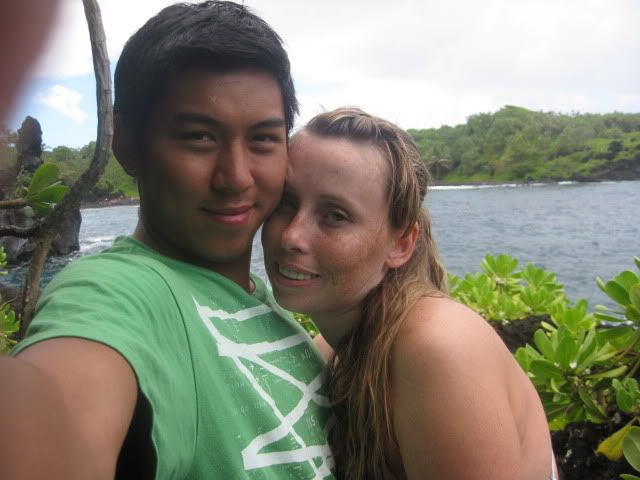 We can travel to Spain where the rain falls, Mainly on the plain side and sing 'cause it is we can laugh we can sing, Have ten kids and give them everything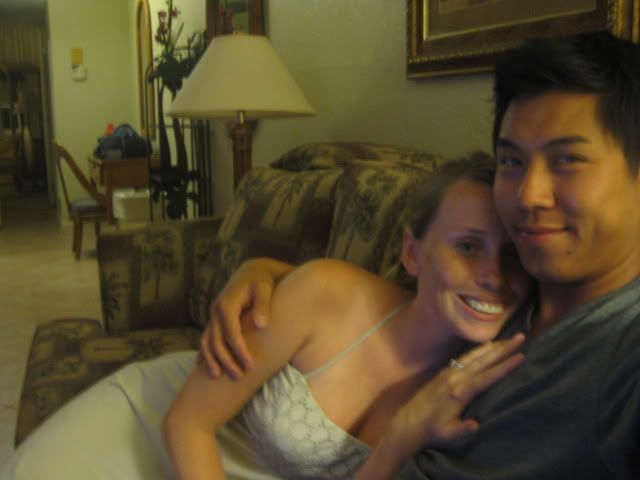 I love you from your toes to your face
You can move in, I won't ask where you've been,'cause everybody has a past,When we're older, We'll do it all over again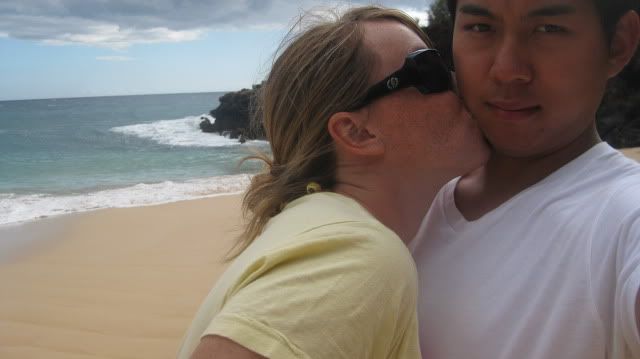 We can be them, two birds of a feather, That flock together
*Lyrics- Train "If It's Love"