Ingredients
1/2 cup vegetable oil
1/4 cup hot pepper sauce
2 tsps honey
4 cups thinly sliced celery
1 large egg
1/3 cup milk
1 cup flour
Salt and Pepper
Four 4-ounce pieces of top round steak, pounded thin
1/2 cub crumbled blue cheese



Directions



1) In a medium bowl, combine 1/4 cup oil, 3 tbsps hot sauce, and the honey. Add the celery to coat.
2) In a shallow bowl, whisk together the egg, milk, and remaining 1 tbsp hot sauce. In another shallow bowl, combine the flour, 1 tsp salt and 1/2 tsp pepper.
3) Working with 1 at a time, coat the steaks with the seasoned flour, shaking off any excess, then dip in the egg mixture, then in the seasoned flour.
4) In a heavy skillet, heat the remaining 1/4 cup oil over medium-high heat. Working in batches, fry the steaks until browned and crisp, about 3 minutes on each side.
5) Divide the celery salad among 4 plates, reserving any excess vinaigrette. Top with the steaks and sprinkle with the blue cheese and remaining vinaigrette.
This recipe made a great dinner. I actually skipped the hot sauce but next time will add it or at least add a medium hot sauce just to give it a little kick. I also would have marinated the steaks prior to cooking them to give them a little extra flavor. I also didn't buy any blue cheese and just sprinkled on some shredded cheese. I think next time I will buy the blue cheese just to see what kind of flavor it adds. I actually don't think I can remember what blue cheese tastes like. I guess it has been a long time since I have tasted it.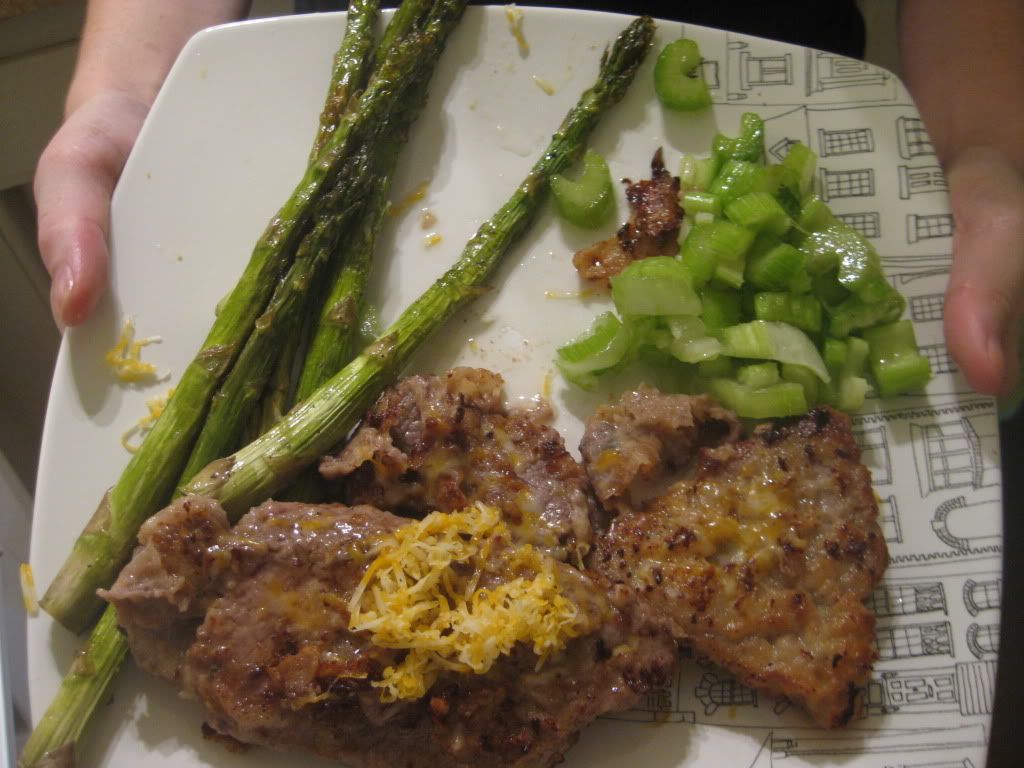 I enjoyed the chicken fried steak a lot and will continue to make chicken fried steak other than just this recipe. I actually have made it once since but it didn't turn out for other reasons, but that will be for my next "Cooking Experiment" post.
The celery in the sauce was good but it would also taste good with another vegetable, I think.
I recommend this recipe and will cook it again.
Source: Everyday with Rachael Ray, November 2009 issue
*Today I would like to say that I am very thankful that I have never gone hungry a day in my life and that my loved ones have not either. Last week I was reading a news report that stated, "More than one in seven, or 14.6 percent of American households, suffered from food insecurity in 2008, according to the most recent data on hunger released by the U.S. Department of Agriculture today. The 3.5 percentage point increase from 2007 is the largest one-year increase since the USDA first began publishing data in 1998." I am so thankful that I can have three meals plus a day without worry. Food seems like such a basic need that it really is a wake-up call about the hunger problems in this country.

On that note if you have a Henry's market nearby you should check out the food drive they are doing. You can buy a bag of food at varying prices and it will be donated to a food bank. I think that they are doing this food drive through Christmas.

This is just a tiny thing that I can do to show my graditude that I don't go without. It's something I need to remember not just during the holidays.