For us Sunday started with a walk to a few stores down the street from our hotel. We went to a Farmer's Market there earlier in the week. We did a little souvenir shopping and came back to the hotel.
This is the waterfall by the lobby of our hotel. On the side of it there is a walkway with a nice garden area.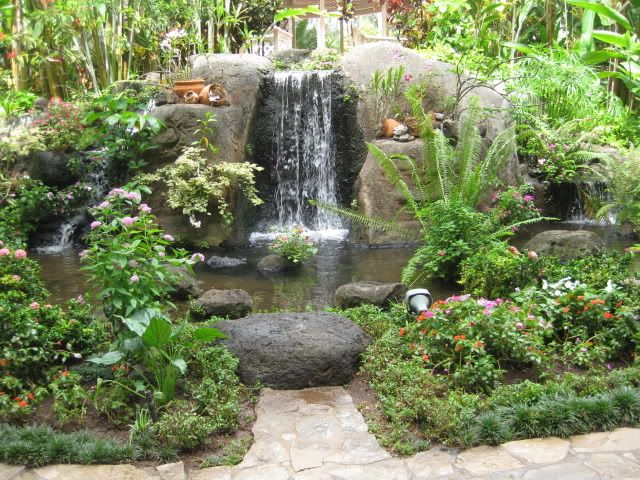 It was pretty cloudy today, definitely not as nice as the weather we have been experiencing here but still pretty. It's never not pretty here, I think.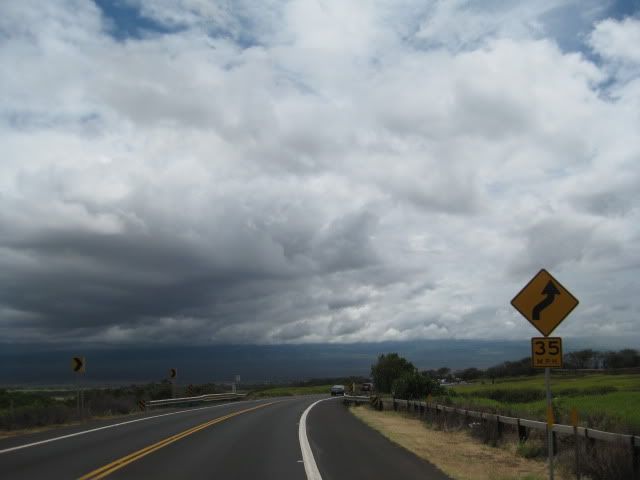 Like I said yesterday, we decided to go the South Shore today. The South Shore is the other tourist destination here on Maui. We are staying on the West Shore (Lahaina/Kaanapali). We got Panda Express on the way (they have drive thru Panda Express here) and stopped at an overlook and ate.
Here is a sampling of our food and a sampling of the view.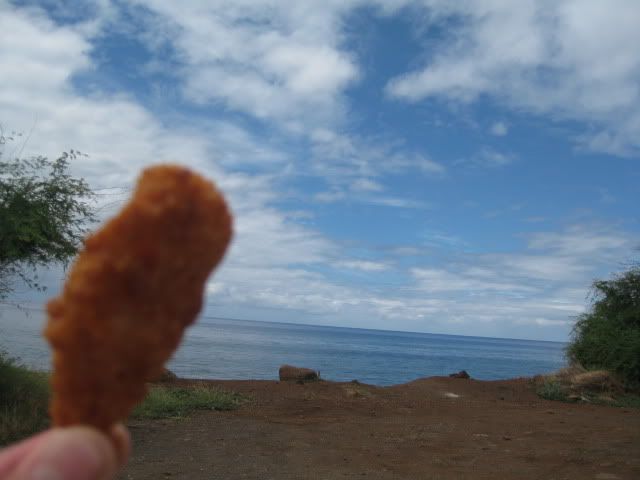 On the way into Kihei we stopped at a Craft Fair on the side of the road and bought more souvenirs. Also while there Rodger was able to accomplish one of his Hawaii goals. He drank fresh coconut juice out of a coconut and then ate the rest of it. An exciting event for him.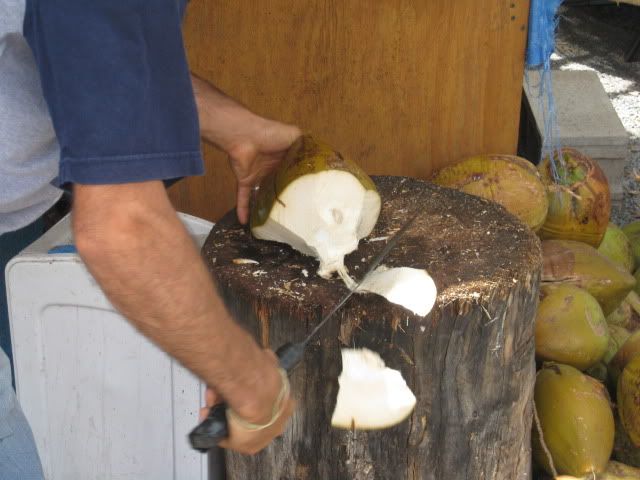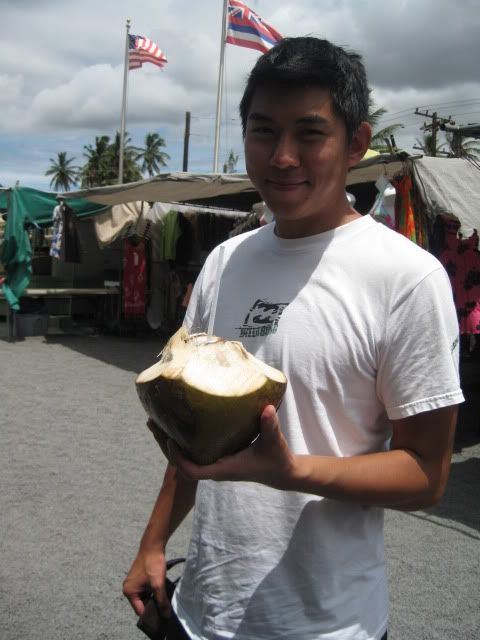 We drove through Kihei and into Wailea, the resort area of the South Shore. (As a reference for Mom and Vickie this is where Jon and Kate Plus 8 stayed, we didn't see the actual hotel, but this is the area we were in today. They stayed in an extremely expensive place, The Grand Wailea, probably for free. I would be jealous but there life has pretty much turned to crap- goes to show that everything comes with a price but that's off topic and for another post.)
We went to a beach in Wailea and snorkeled. The water was a little colder and the a choppier probably because of the weather. There were some good fish to see but not as many as the past two days.
After snorkeling we relaxed on the beach and swam around a bit. This was the beach. I think it was called Ulu Beach.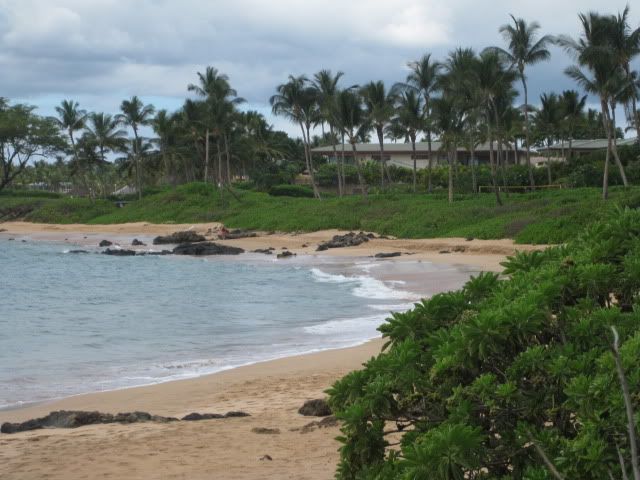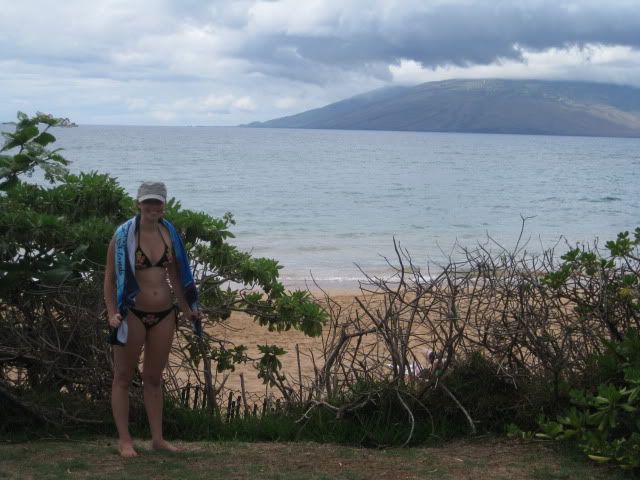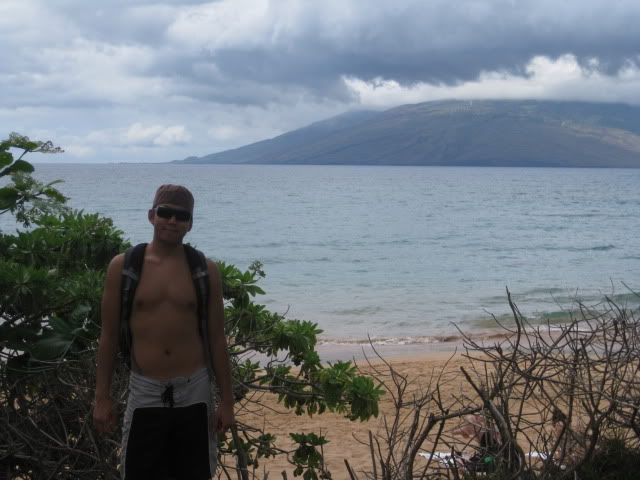 If we had continued to go south then we would have seen The Grand Wailea. Wailea is a nice area but I like Lahaina better. There is more to do for us as far as shopping and things to see. Wailea has a lot of golfing though, but we don't golf so not a pro for us. There are quite a few beaches to check out there though.
We stopped and did a little shopping on the way back to Lahaina at the Maalena Harbor again (which we were at a few days ago when we went on the snorkeling cruise). It may seem like we aren't doing a lot but even though this is a somewhat small island it does take a bit of time to get from point to point as the roads are curvy and for the most part only one way for each side of traffic.
These are the sugarcane fields that we passed while driving back to Lahaina. We saw them when we drove in from the airport and Kahului last night also.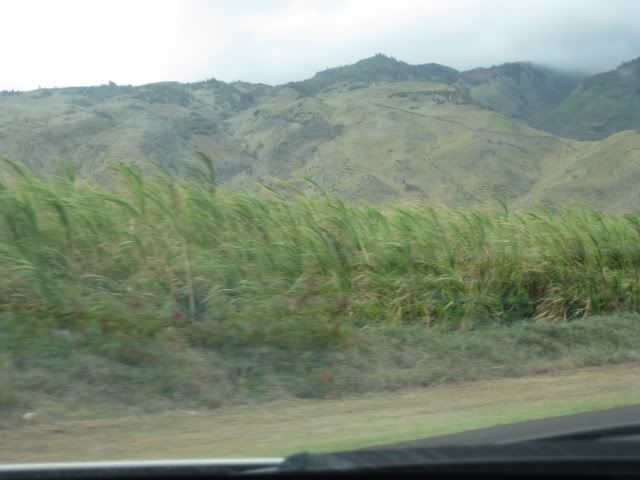 This evening we went back to Whaler's Village for dinner. Afterward we walked around the shops, on the boardwalk, down the beach, and looked around the other hotels.
Now we just got back from the jacuzzi and we are watching television.
Tomorrow Rodger is in charge of deciding what we will be doing. So I will be back tomorrow night with everything we did. Somehow I don't think that it will involve a nap.
Goodnight from Maui with LOVE!