Today was our last full day here.
Here is the entrance to our hotel.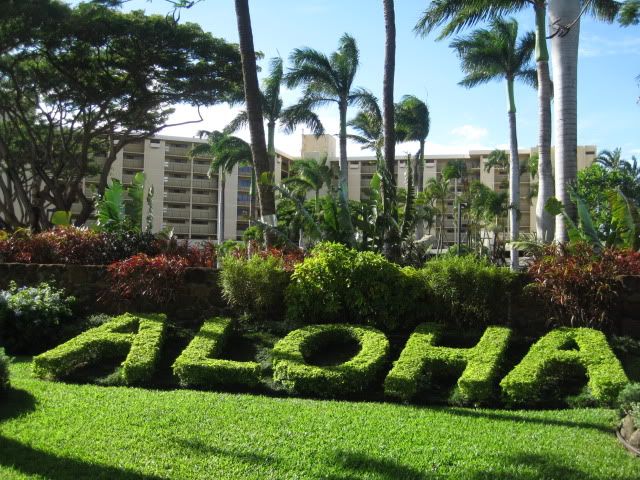 We started off the day on the beach relaxing and sunbathing. We then headed north for snorkeling. We stopped at Napili Beach. Good snorkeling there with some fish that we hadn't seen before. Best of all though was that we were able to see a sea turtle. Actually we saw two of them. It was amazing. They are huge and it was such a cool experience. We got to swim within inches of them. Every once in awhile they would pop there little heads above the surface of the water and then go back down and swim around.
Here is a picture of one of them swimming close to the rocks. We did buy an underwater camera and we are hoping that some of the pictures we took of the turtles underwater will turn out.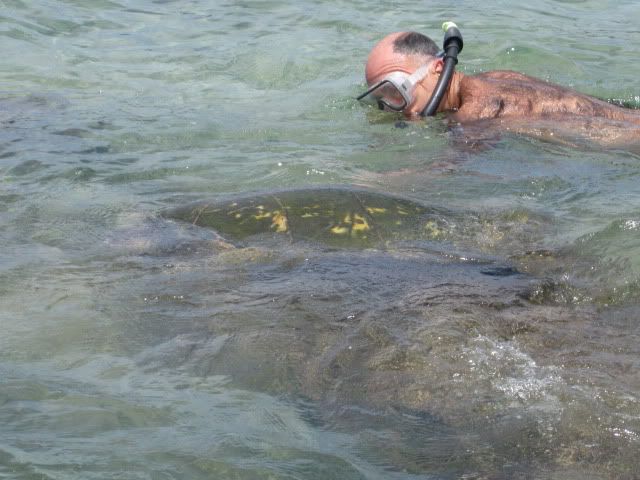 We were so happy to get to see the turtles. We have been looking for them the whole time that we have been here. We were just swimming around the water today and I spotted one and called Rodger over. We were both so excited. I think we saw most all of the underwater creatures of Maui besides an eel. Along with the turtles today I saw a really neat yellow fish. It was fat and had an odd shaped head and its body had bumps all over it.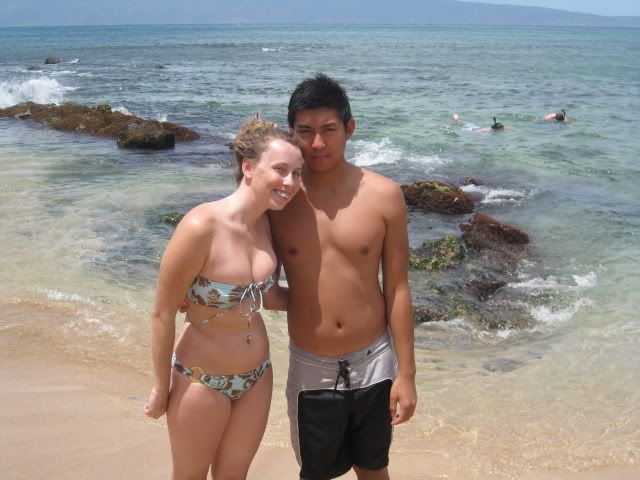 We were standing around these rocks looking for the turtles when the waves started to get big. I was standing on one of the larger rocks when waves started coming and no sooner could Rodger say "are you sure you should be standing there?" then a huge wave completely washed over my body while I was standing up. It knocked me off of the rock. It was actually pretty funny, to us and the people standing around the shore.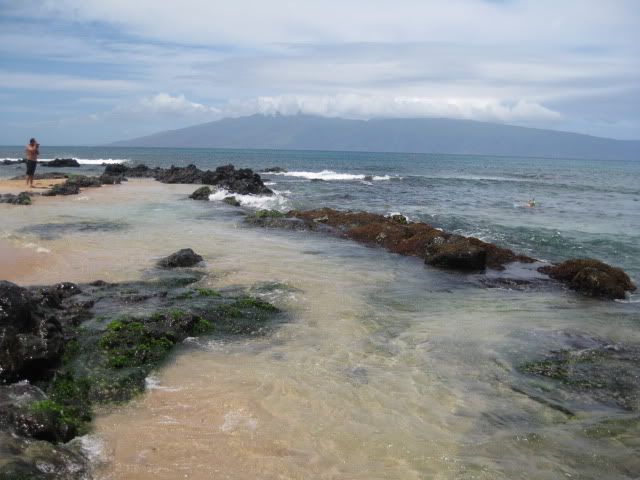 This was a nice beach to hang out at. We stayed there for quite awhile and tanned ourselves. We actually ended up getting a little sunburned.
Later we went to the beach in front of our hotel again and watched the sunset. Everything here is just so beautiful, I mean sunsets are beautiful everywhere but here it just seems so natural and pure. It's just something that you have to experience yourself to understand but hopefully these pictures will do it a little justice.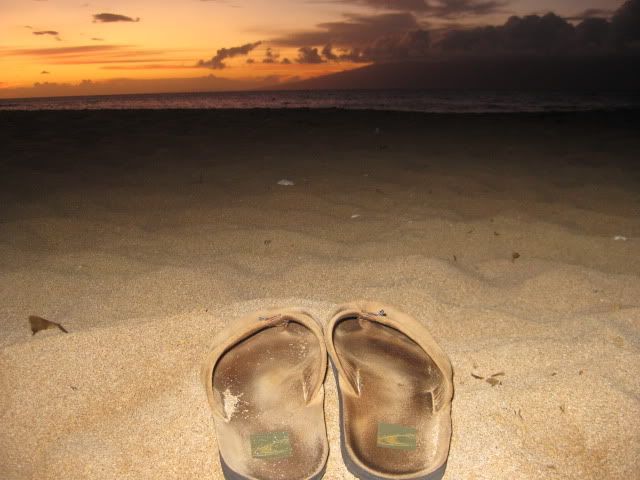 For dinner we went back to Front St and went to "Cheeseburger Paradisio". We both had cheeseburgers which were very good. We walked around a little afterward to do a little more souvenir shopping and then came back to our hotel to finish up some packing.
We plan on doing a little more snorkeling tomorrow morning at the beach park up the street from hotel and then we will drive to the airport to catch our flight.

It's been great Maui. Can't wait to come back and stay longer next time.
See you tomorrow my Sushi, I have missed you.