I am finally getting around to blogging about Christmas. It was a fun holiday season. I had the week before Christmas off from work so I was able to relax and get some last minute Christmas things done.

The Saturday before Christmas Rodger and I (emphasis on Rodger) cooked dinner for my parents and Vickie and then went to the Griffith Park Light Festival. Going there is one of my favorite parts of Christmas. It was fun this year to even though I was in the throws of a cold.




Monday I took it easy and went to Rodger's work to meet him for lunch. That evening I went to my Aunt Peggy's and we drove to Christmas Tree Lane in Altadena and the Hasting's Ranch area to look at Christmas lights. It was fun and cozy with our Starbucks and we always have a great time together.

Tuesday my Mom, Peggy, and I went to the mall for Christmas shopping and lunch. It was a really nice time and a highlight of the Christmas holiday.

Wednesday Rodger also had the day off so we had Dim Sum with his mom and sister. I loved the potstickers, egg tarts, shrimp and noodles, and a couple of other things that I don't know the name of. Afterwards Rodger and I went downtown to look Nokia Live by the Staples Center and walk around. We also went to the Los Angeles Library. I had never been there and it was very impressive.

Thursday was Christmas Eve and Rodger and I went to my parents to hang out and make cookies. I wanted to make sugar cookies from scratch but didn't thoroughly read the directions and the dough had to chill for 24 hours. So we bought sugar cookie dough and I made the frosting from scratch. That evening we went to my grandparents. My cousin Matt made a great dinner and we had a nice time eating and visiting together.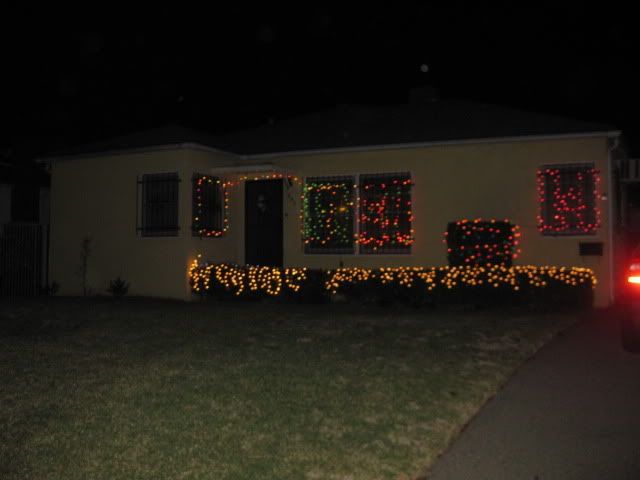 My Grandparent's house

I went home with my parents after and we hung up the stockings and my Mom read "The Polar Express." I loved it. I just crave the tradition. We always read that or "The Night Before Christmas". Then Rodger came and picked me up and we went back to the apartment. This was my first Christmas Eve not sleeping at home so that was a little different but I was there late and then Rodger and I went back Christmas morning.

Rodger and I stayed up late doing some last minute wrapping and then woke up early Christmas morning to open our presents from each other. It was fun seeing the things we had picked out for each other. Rodger is always so thoughtful in the things he picks out for me. It really means a lot that he takes time to think about what I really want and that he pays attention to the things I show him. I hope that he liked the things I gave him. I think it's safe to say that he liked this Laker book I bought him. And I liked the vest he got me along with the other cute clothes.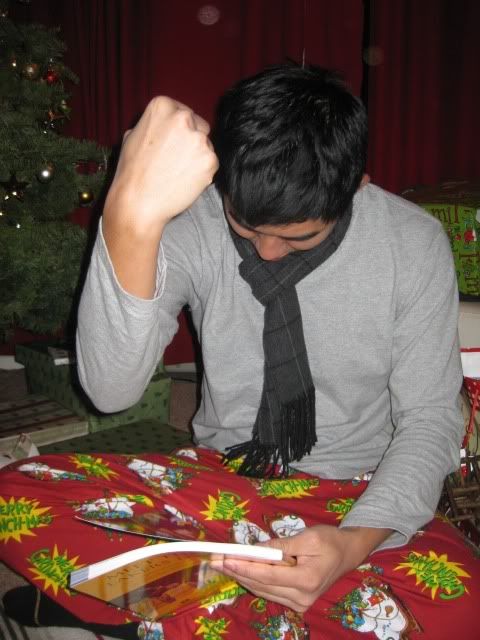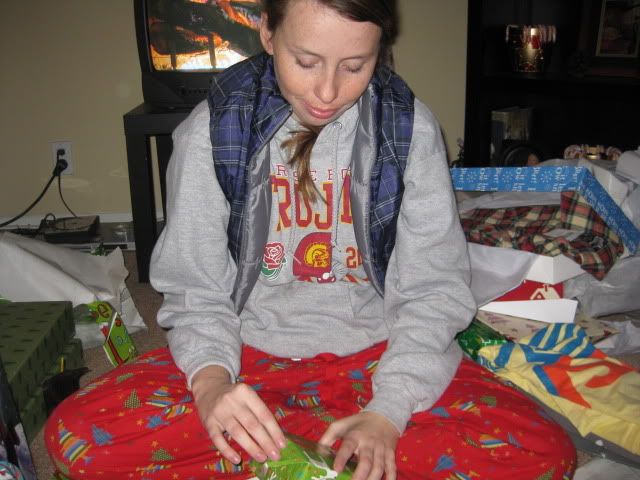 After we opened presents we went to my parents house and my parents, Vickie, Paul, Rodger, and I celebrated and exchanged presents. My mom made a great breakfast and we all had a great time together. The cats also had a great time. Christmas morning is always so fun.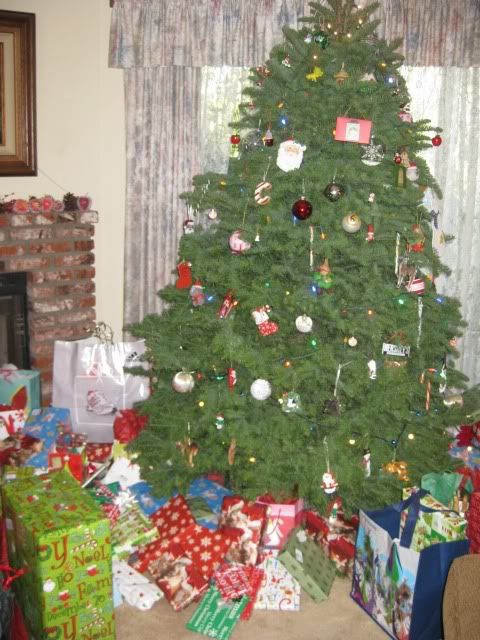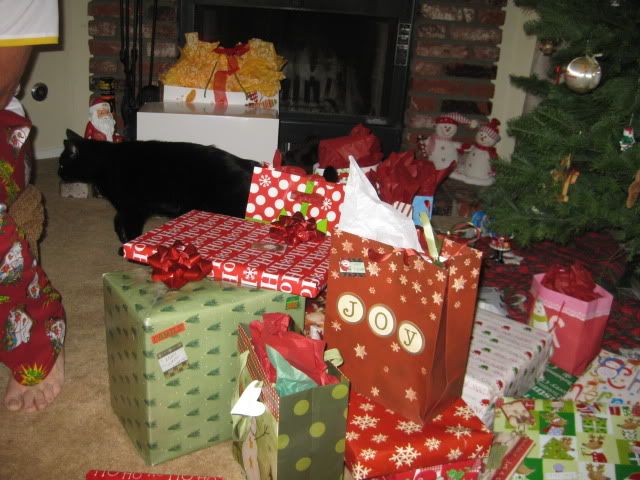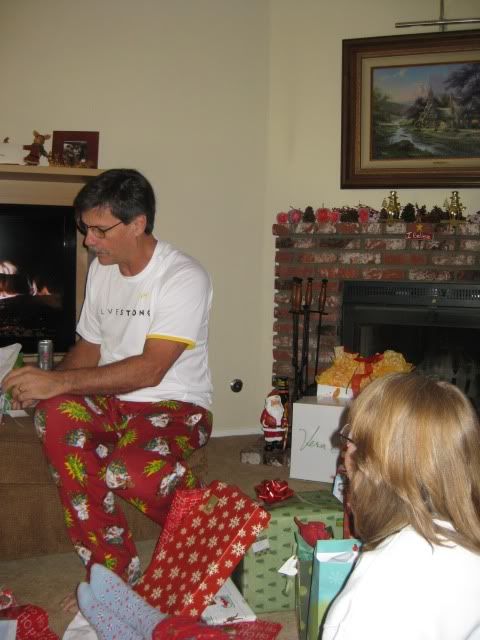 Later in the morning we went to my Grandma Creekmur's. It's so nice that even though the Creekmur family keeps growing we can all still get together. My cousin Beth made calendars for everyone. They are great she included pictures of the entire family with every one's birthdays marked. She put so much time and effort into them. It was very thoughtful of her. My cousin Lindsey always likes to do "gag" gifts and this year's did not disappoint. We had sandwiches and tamales and visited.

It was just my parents and me for Christmas dinner but it was really nice and it was good to relax because in case you couldn't tell we were pretty busy. My mom made Cornish game hen and stuffing which was yummy then my Mom and I did a puzzle and the three of us watched "Christmas Vacation" on television three times in a row.

It was a very nice Christmas holiday and I had lots of fun throughout the month doing various holiday things. I love Christmas and am already looking forward to next year. I just love that Christmas feeling.

The only downside of the day was that the Lakers lost to Cleveland but it did lead to this very funny "tweet" from Shaq. I think it sums up the Christmas spirit nicely.


When the fans was throwin stuff, somebody hit me n da head wit some wet peanuts, lmfao, merry twitmas evryone






It was a Merry Twitmas indeed.