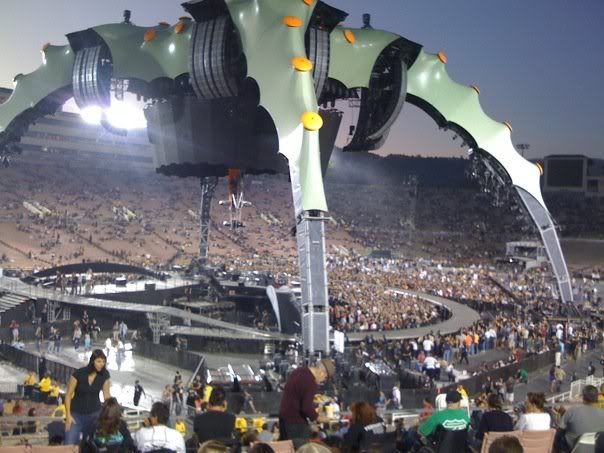 Sunday night was the U2 concert heard round the world (literally) and I was there. I was there! Thanks to my wonderful aunt Peggy. I know no bigger U2 fan then her. She even has a vanity lisence plate that says "U2ILUVU". (See what I mean).

It was my first U2 concert and it did not disapoint. From start to finish it was great. The Black Eyed Peas opened for U2 and to be honest I wasn't really looking forward to them that much but they put on a great show. Slash from Guns and Roses even came out and performed "Sweet Child of Mine" with them.

Bono puts on a great show, and even though I couldn't understand too much of what he said (at one point I thought he said that Buzz Lightyear was there) I loved every single word that he sang.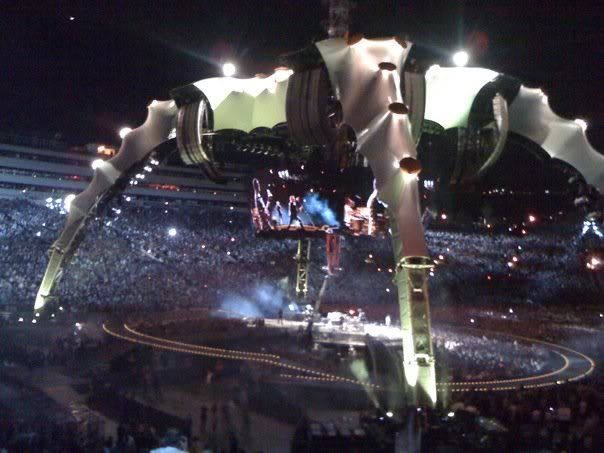 He performed some favorites of mine, "She Moves in Mysterious Ways", "Stuck in a Moment You Can't Get Out Of", and "Walk On". And, of course, "One".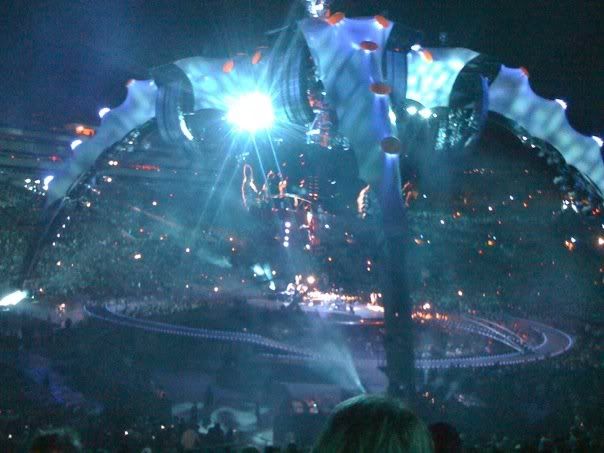 Apparently Pao Gasol and David Beckam were there also, among many others. But we didn't see any of them. We saw Bono, that was good enough. And I must say I had the best seat in the house next to my cousins Matt and Justin and my aunt. It was pure joy watching my aunt enjoy the concert.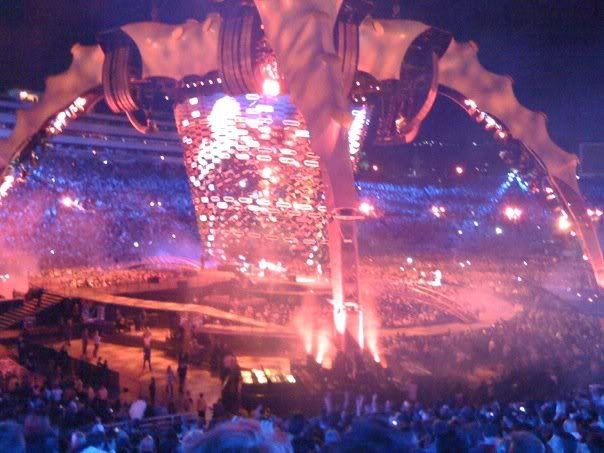 One of my favorite parts was when Bono sang a little part of "Stand By Me".



And this part of the concert (the first encore right after they sang "One") sent chills down my spine. Watch it, you may cry and want to watch it over and over.



There is nothing like watching a truly talented artist in his element who is passionate about his art and his cause. I also loved when the crowd was singing along and then Bono would stop singing and just let the crowd take over. I always love that at concerts. It must be such a high for the artist.

The second encore included "With or Without You". Who doesn't love this song? It's even better live. I could have watched him spin that microphone all night.



I will never be able to adequately describe this experience on a blog, to be honest I am still processing the whole concert, it was such an interactive experience. We even lit up the stadium with our cell phones to show our love for a woman in Burma.

Thank you Peggy! It was an experience that I will never forget, even the part where we sat in traffic in the parking lot until 1:30am. It was so worth it!


**Photos from Matt's IPhone/Facebook.