Meal two in my Cooking Experiment
I made a dessert called
"S'more Bars"
. Named for two reasons, I think, one because they are supposed to taste like s'mores and also because you always want s'more (some more).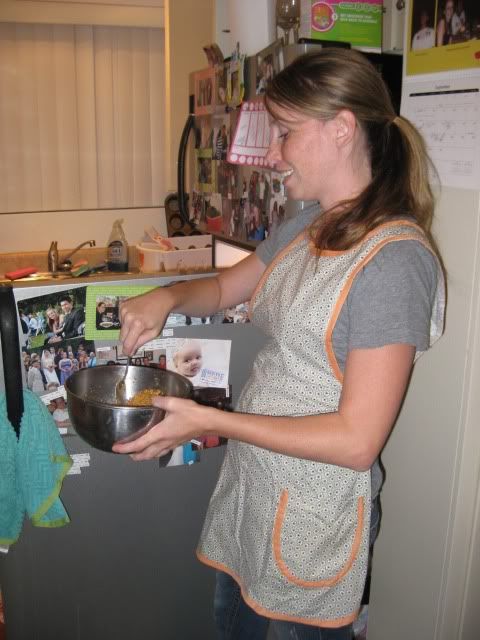 Here is the recipe-
Crust
14 whole graham crackers, crushed, (2 1/4 cups crumbs)
3 tbsp sugar
1/4 tsp salt
6 tbsp (3/4 stick) butter, melted
Brownies

There is a recipe to make brownies but let's be real I made some out of a box. I recommend the triple chunk. OMG!
Topping

1 jar (7.5 ounces) marshmallow cream (about 1 1/2 cups)
2 tbsp milk
1 cup mini chocolate chips (I didn't put any on mine, but they would have been good)
3 whole graham cracker boards, broken up
Directions
Crust- Combine cracker crumbs, sugar, salt, and butter in bowl until evenly moistened. Transfer to a 13 X 9 X 2 inch baking pan; press evenly into bottom. Refrigerate 1 hour or until set.
Brownie-
Follow the recipe on the box and don't forget to lick the bowl. After crust is set pour brownie mixture evenly over crust. Bake at 350 degrees for 30 minutes or until center is set.
Topping-

While brownie layer is baking whisk marshmallow cream and milk in a small bowl until well blended and smooth. Remove brownie from oven; cover with marshmallow topping. Spread or tilt the pan to level topping and completely cover brownie layer. Sprinkle mini kisses and crumbled graham crackers over the top. Bake at 350 degrees for three minutes or until kisses are glossy and marshmallow topping is set. Let cool in pan. Cut into bars and remove from pan if you want. I left mine in the pan because I am not fancy.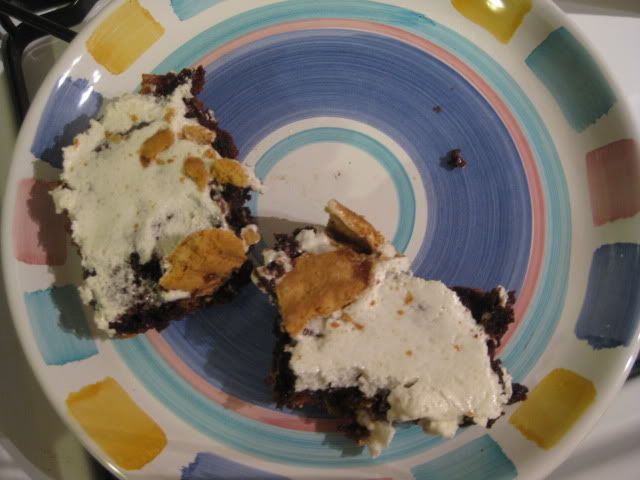 I had fun making this dessert. I would have done a few things differently. I would have read the recipe all the way through before I started so that I knew the crust had to set for an hour and then I would have started making it sooner. I would have added the chocolate chips and I would have put less milk than the recipe called for in the marshmallow topping so that the marshmallow taste was stronger. Most importantly I need to get some measuring spoons so I can be accurate.
I would definitely make this dessert again. It was really good. Not every bite tasted like a s'more but some did and even when it didn't it still tasted good. If you wait a few days and eat it starts to taste a little saltier which was nice because I like the taste of sweet and salty together.
This recipe makes a lot. I ate a great deal of it, Rodger ate some, and I brought some to my parents who said they liked it. I am not sure if I believe them though because a couple of days later I asked my mom if she wanted more and she said she still had some left over. There on a diet or something. Today at lunch I decided that it needed to be eaten quickly before it got old so I took it back to work and my friends at work loved it. It made my heart happy and my cheeks red. What I am saying here is that you will need a few people around to eat this when you make it or it would be nice to bring as a dessert to a fun gathering.
So far I am loving getting this Cooking Experiment of mine.
Also for dinner that night Rodger made this. In other words, we ate really well that night.