Last weekend was a hot one and by hot I mean extremely warm. But what else would you expect from a trip to Palm Springs in the middle of the summer. Luckily, we all wanted the heat, well more like we wanted the sun.
My parents were down there all week and Rodger and I met up with them Friday night and then Paul and Vickie arrived Saturday morning. I didn't take many pictures (which is why I had to post the picture above even though Vickie's eyes are closed and the other two pictures I stole off of Vickie's facebook) so you will have to take my word that it was a great time. Rodger and I even got upgraded to a main floor patio/pool room (without even asking). Maybe they remembered my wasp bite incident from last year. I know I haven't forgotten about it and made a point of bringing it up at least once every hour while we were there.
Lots of sunning, swimming, relaxing, and eating. There was Shakey's Bunch a Lunch (for some of us), and my parents treated us all to a nice dinner at PF Changs. I won $15 at the casino. Not too bad considering I only put a $1 in the penny machine. There was a game of Yatzee and I had quite possibly the worst game in my life. But it was fun. Lots of laughing and a very odd comment by Paul that Vickie will probably never get over. I may never either. And I am pretty sure everyone else has blocked it out by now.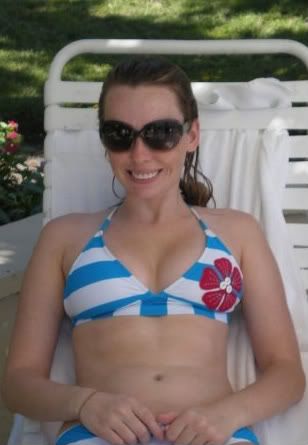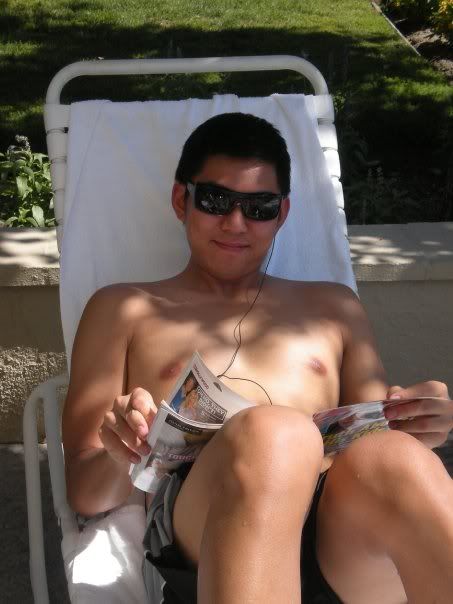 I can never get enough of swimming and the sun and, of course, the occasional nap in a nice cool room. I love taking a good nap after spending time in the sun and water. Well let's be honest I love taking a nap any time. But naps in an air conditioned room really rank high up there.
The weekend also included Rodger and I listening to Michael Jackson non-stop every time we were in the car. I perfected my "Billie Jean" car dance moves, and our love for "You are Not Alone" and "Man in the Mirror" grew to immeasurable proportions. There are certain parts of "Man in the Mirror" that we just listened to over and over. And then, of course, there is the reenactment of "Rush Hour 2" when listening to "Don't Stop 'til You Get Enough". You have to do it when you are listening to this song in the car. It's a must. At least for us anyway. By the way, did you hear that Michael Jackson died? I haven't hardly seen or heard anything about it.
Side note: While MJ's passing is sad it did spawn one of the greatest repeatable lines ever. "There wasn't nuttin strange about yo Daddy!" Thank you Al Sharpton. I repeated that line every 2.5 seconds in Palm Springs and also at Rodger's command since then.
It was a great weekend.
Palm Springs rocks my world.